eCommerce, eBay, and Amazon: Complete Solution
Maxpho offers the ability to integrate all your online sales channels, including eCommerce, eBay, Amazon, and price comparators, enabling you to publish and promote your products simply and automatically, all from a single page.
With the aid of our management system for eBay, Amazon, and eCommerce sites, you can benefit from numerous automations that will make your processes fluid and functional, offering you maximum convenience.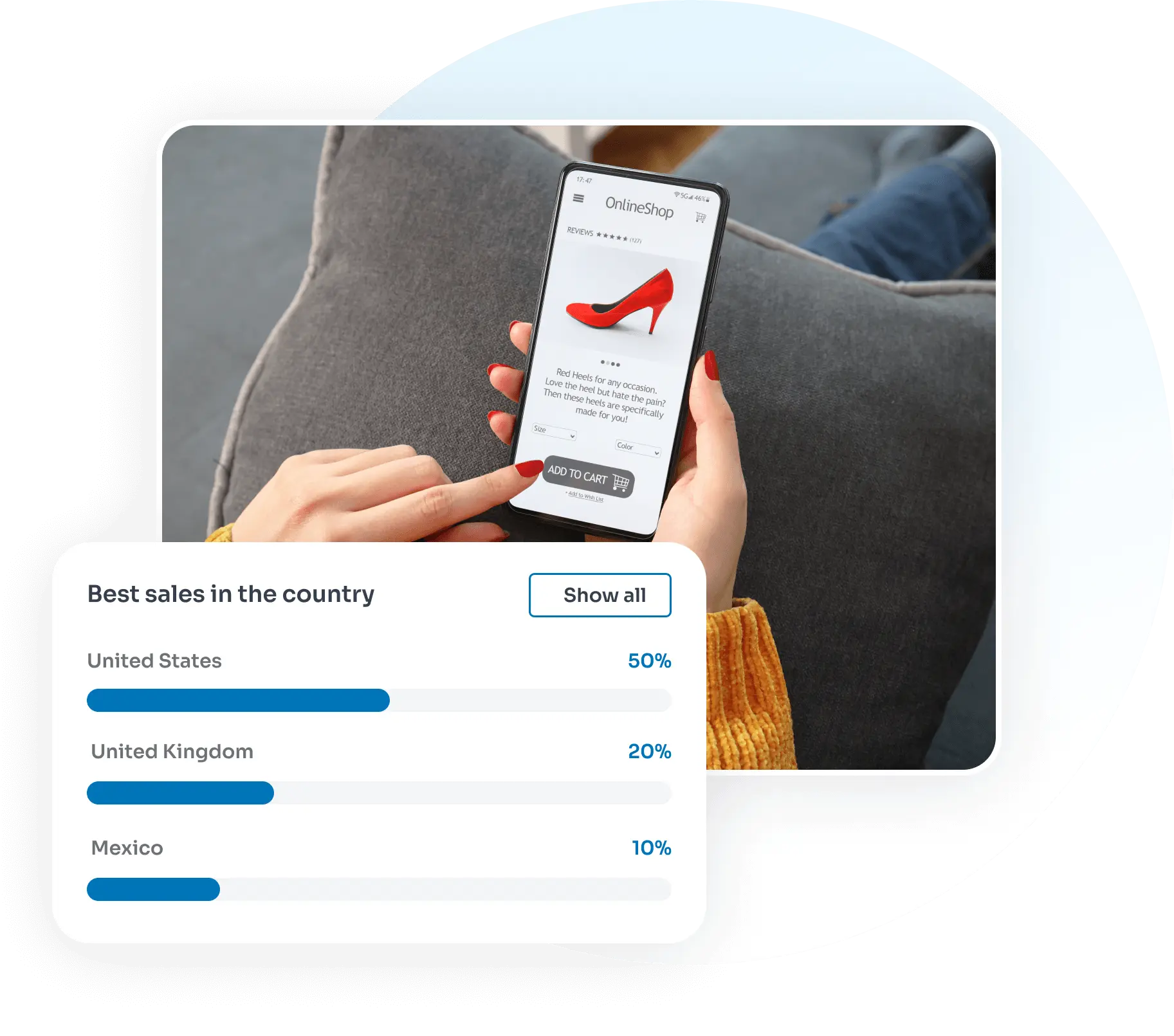 SIX TOOLS FOR SITE INTEGRATION
Maxpho simplifies the management of your online business.
Everything is managed from a single Cloud account, eliminating the need to install software on your computer and allowing you to access it anywhere, even from your smartphone. This will give you more time to dedicate to growing your business through marketing activities.
eBay
(Europe, North America, Oceania, and Asia)
Amazon
(Europe and North America)
eCommerce Sites
(available in several languages)
Price Comparators
(Europe and North America)
Counter Sales
(Maxpho or third-party software)
Cash Management
(through third-party software)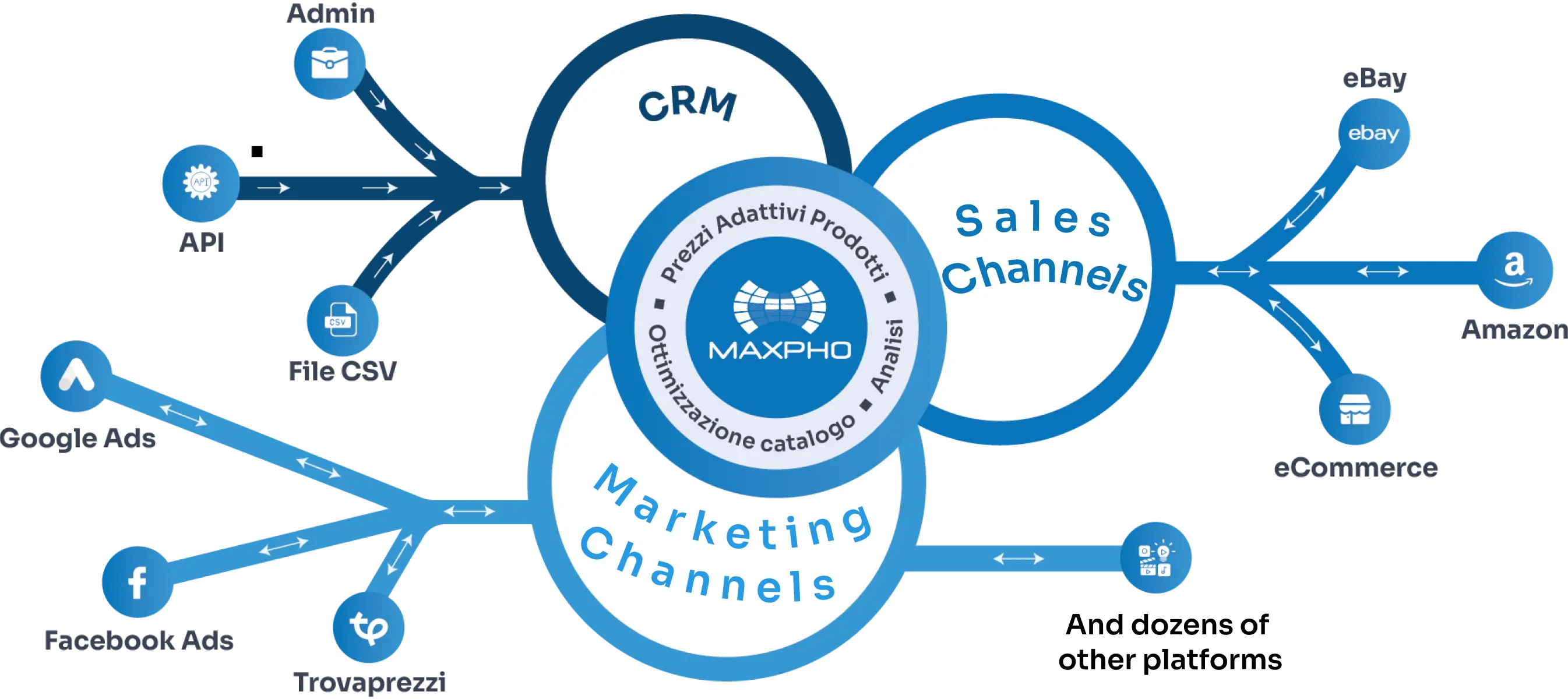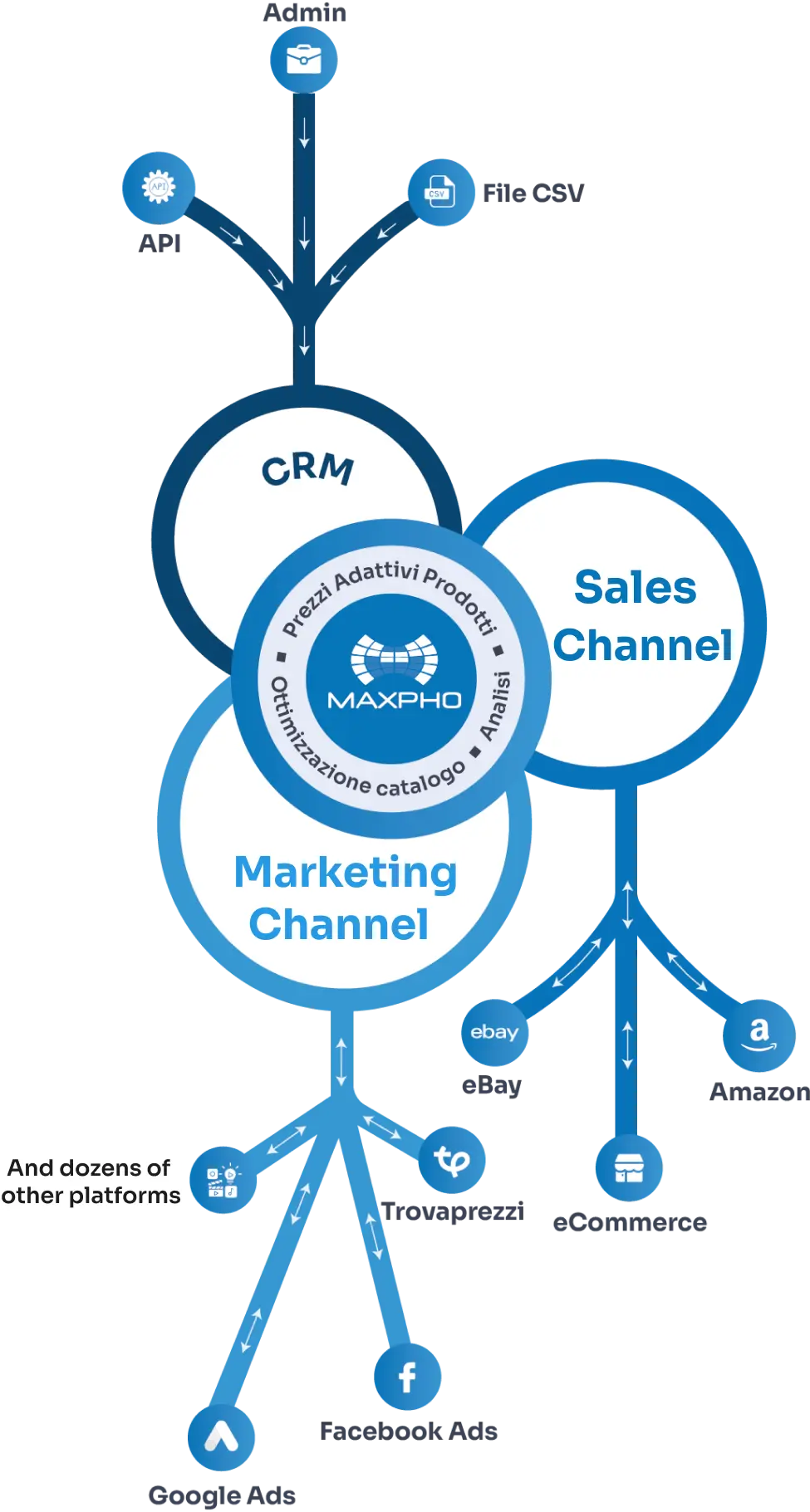 Complete Management
eCommerce and Marketplace Management
Con Maxpho, dimentica tutte le applicazioni e gli account di ogni negozio online.
With Maxpho, forget all the applications and accounts for each online store.
Our eCommerce management solution is a real ally for your online business, optimizing and simplifying all sales processes and allowing you to increase orders.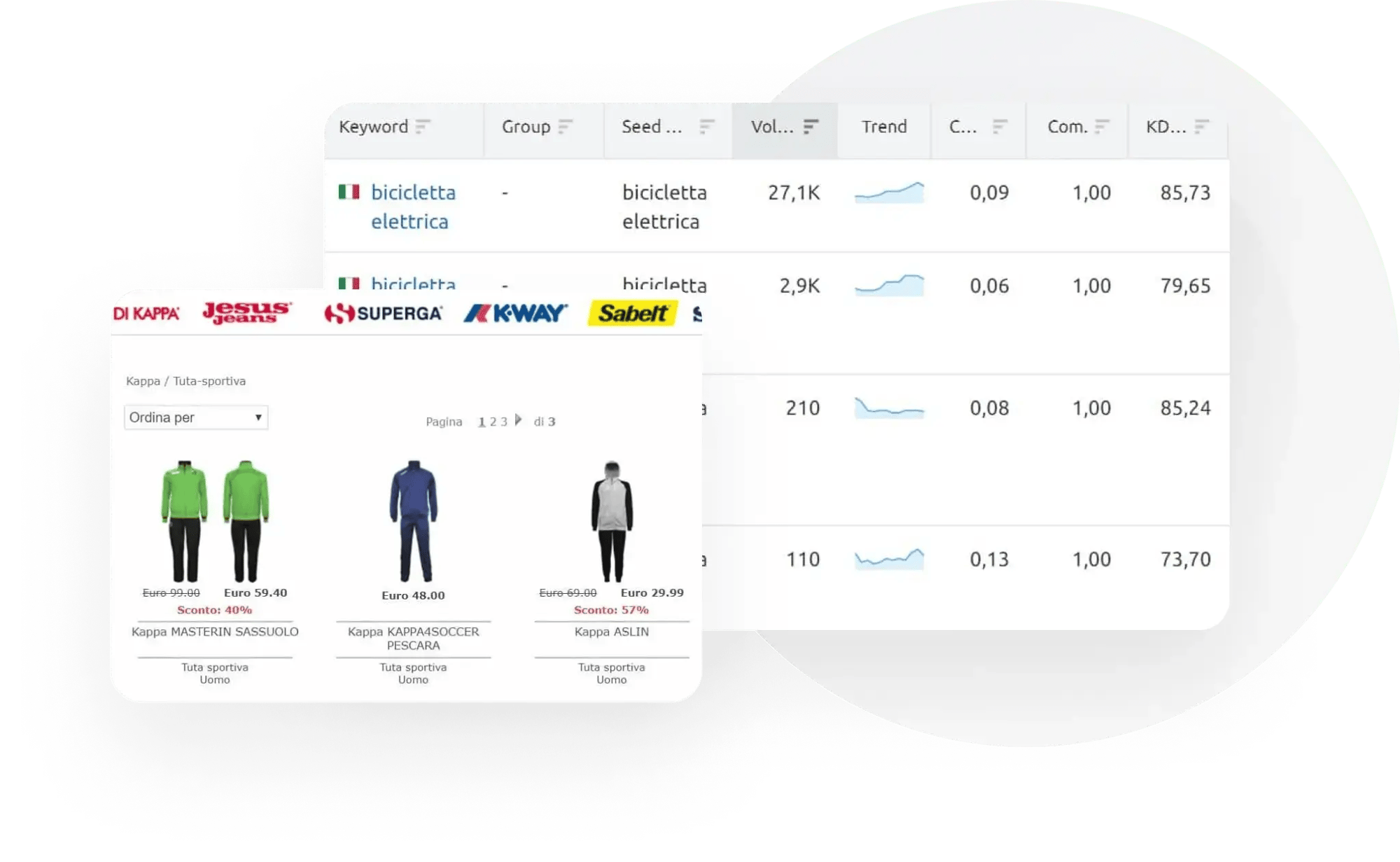 ---

Single Application
Manage all orders from one app: just select in the control panel settings which channels to use and you're done
---

Visibility
In addition to minimizing your efforts, get immediate visibility and reach as many users as possible
---

Publication
Our innovative eCommerce site management system automatically takes care of all the necessary sales process stages
---

Speed
Higher loading speed for optimized conversion rates
---

International
Take advantage of the many benefits of managing an eCommerce in different languages
---

Integrations
Total integration with accounting, logistics, and inventory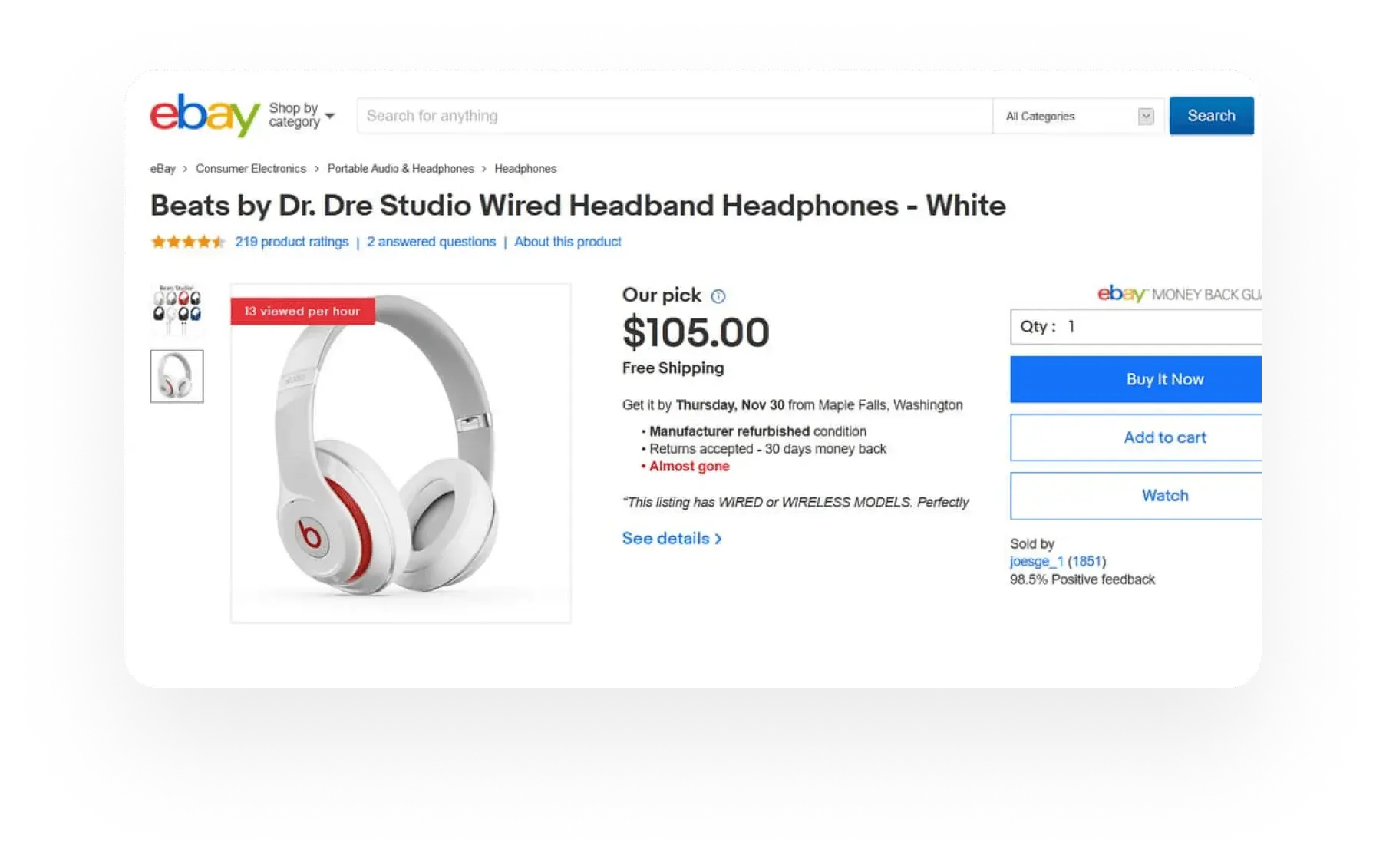 Maxpho is an official eBay partner
Maxpho is the first completely automatic eBay listing software that allows you to manage all your sales channels through a single interface. Sell online in Italy and around the world with simple and automatic eBay store management!
If you are interested in integrating eBay and Amazon, with Maxpho you can integrate all your online sales channels!
---

Global Sales
Sell on eBay automatically and simultaneously in Europe, Asia, North America, and Oceania
---

Visibility
Increase the visibility of listings thanks to optimization on eBay's powerful internal search engine
---

Management Systems
Complete management of orders, returns, and catalogs, easily integrable with the most innovative business solutions
---

Templates
Unique models and designs configurable independently on listings, to enhance the company's image
---

Translations
Translate listings into all the languages you need to sell worldwide. All with a single mouse click
---

Configurations
Automatically apply all configurations in bulk for all products
Amazon Software that Integrates Perfectly
With Maxpho, quickly synchronize price and quantity for each of your products throughout Europe and the United States, enjoying the convenience of centralized management, whether you operate from your warehouse or through Amazon FBA.

Thanks to Maxpho's Amazon management system, you no longer have to worry about the origin of orders. In fact, our software will do all this for you automatically!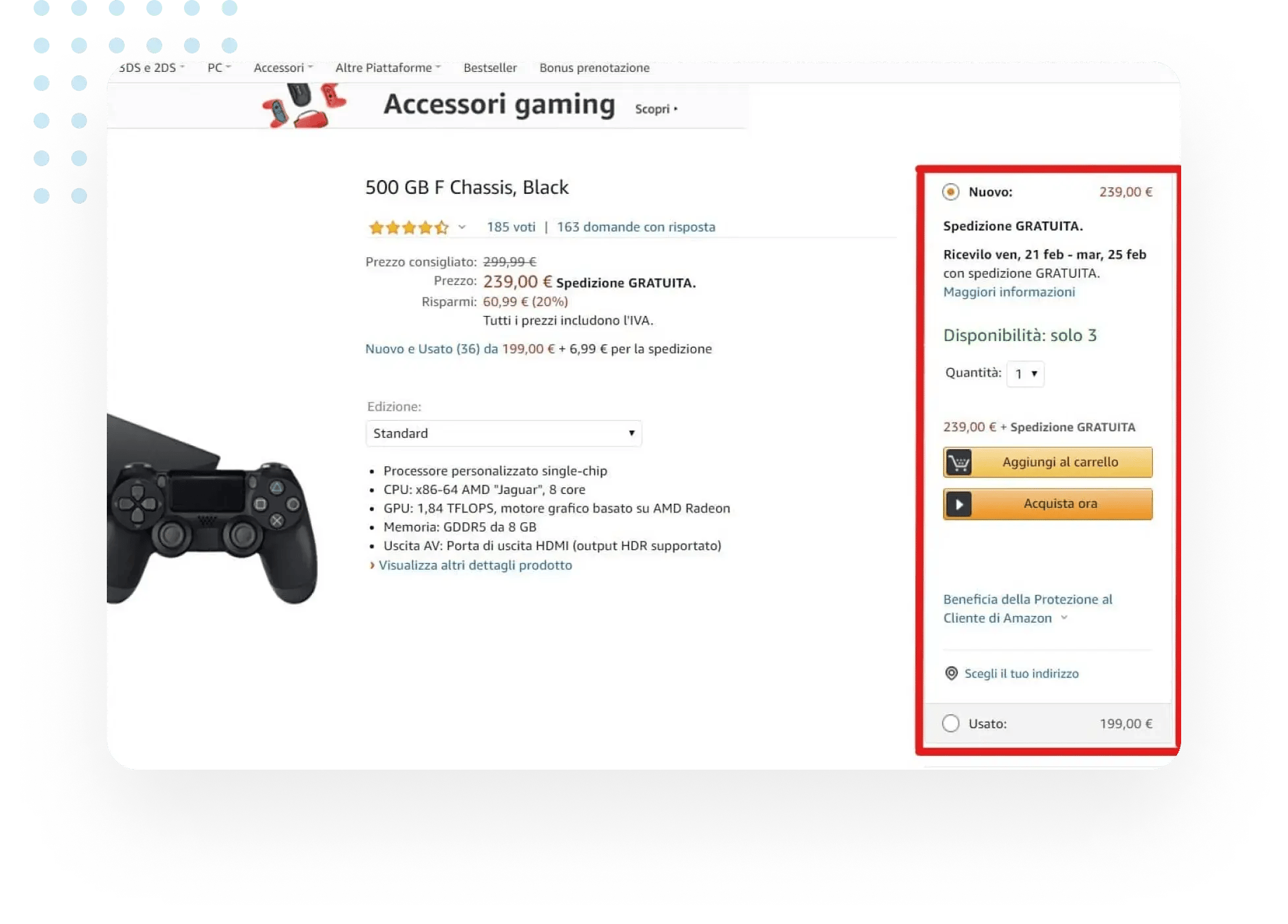 ---

Synchronization
Synchronize quantities and simplify your life with unified order and returns management
---

Europe and North America
Make the most of managing your eCommerce site on Amazon in North America and Europe
---

Prices
Develop personalized pricing strategies for each market and various customer segments
---

Variants
Simple pricing for variants and products
---

Carriers
Optimize the management of shipping, returns, and carriers directly from the received order
---

Management Systems/ERP
Seamlessly synchronize quantities and orders, in total harmony with your management system or ERP.
Price Comparators
You heard right! Maxpho also provides integration and automation for Price Comparators. Leverage these powerful online promotion and sales tools.
Publication
Promote your discounts and special offers, showcasing your products on numerous price comparators worldwide.
Track Sales
Monitor visits from price comparators and identify those with the highest conversion rate. This way, you can optimize your costs.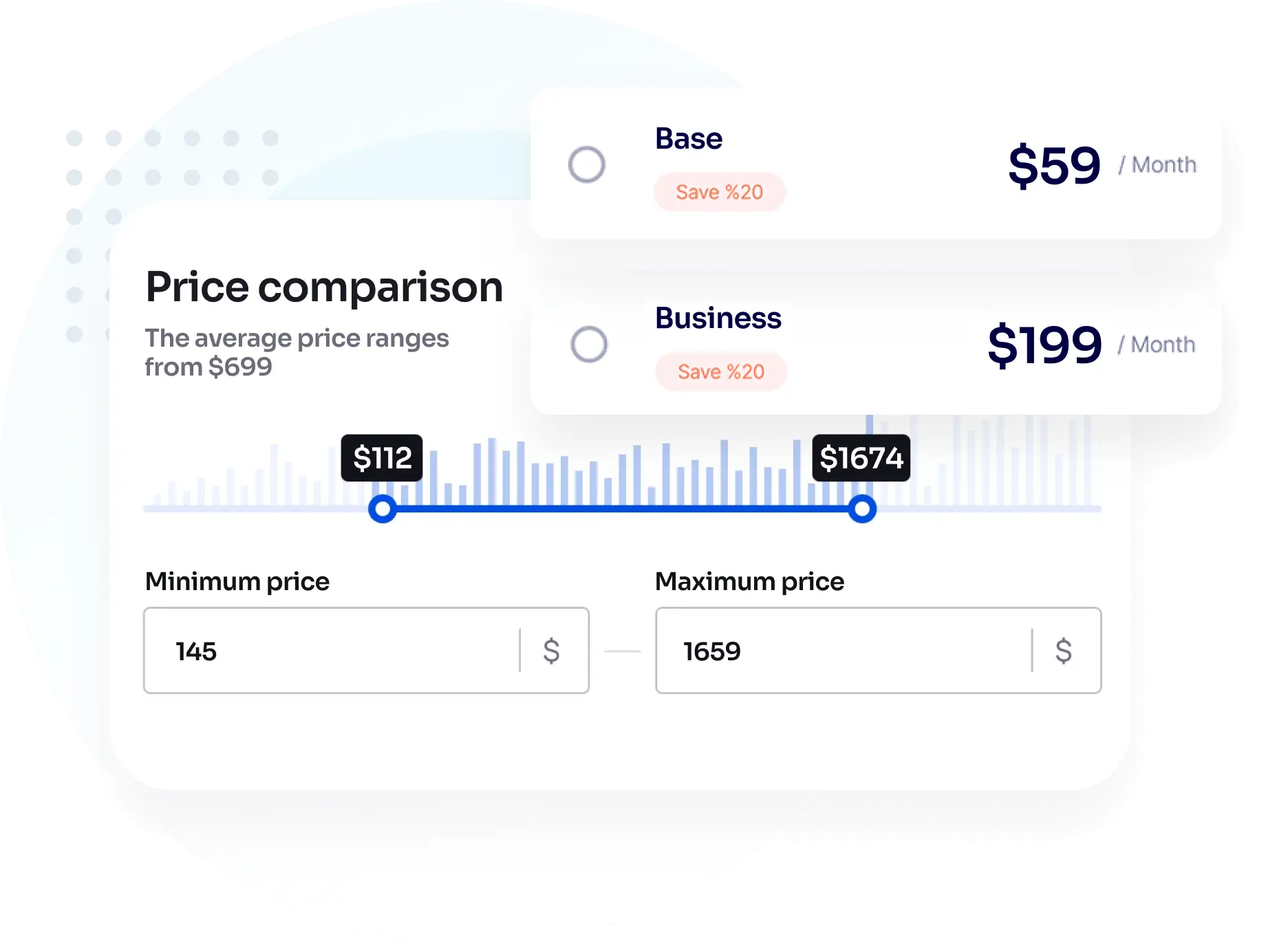 Reviews from those who chose Maxpho
Through Maxpho's API calls, our management system is synchronized with eBay. Soon, we completed the full integration towards the eBay channel in a month or so, and when we have doubts and need any kind of assistance, the Maxpho team is immediate and professional in providing support.
Silvia Gastaldo
Loyalty Manager @ Bata
Before knowing Maxpho I never thought I would see thousands of products published within a few hours, simply by exporting them from my management system.
I chose Maxpho because from the first meeting it gave us confidence. Maxpho has brought us many benefits. It has solved all the critical points that we could not solve on our own.
Domenico Carofiglio
F1 Tyre Performance
Maxpho's Guides
We are online business experts! Check our guides for useful tips, clarify your doubts, and achieve success!
Se ti interessa conoscere come migliorare il SEO del tuo eCommerce guarda la Guida SEO per eCommerce
Vendere online su eBay non è più complicato grazie alla Guida su come vendere su eBay che ti permette di aumentare le vendite.
Sei invece interessato ad Amazon? La Guida su come vendere su Amazon ti aiuta ad affrontare le difficoltà di vendita.
Frequently Asked Questions
Q. Can I use Maxpho's administration from multiple computers?
Maxpho is cloud-based, so it can be accessed from any internet-connected device. Moreover, you can launch updates of any kind even from a turned-off computer!
Q. How do I configure multiple marketplaces simultaneously?
From the online panel, you can follow the guided configuration to add marketplaces deciding which country and language you want to choose.
Q. How can I export the product catalog from Maxpho?
From Maxpho's "Products" window, there is an "Export CSV" option. You can decide to export the entire database or only some products using the search filter. Export can be done in blocks of 1,000 products at a time.
Q. Can I generate waybills for the couriers I use?
Maxpho has native integration with SDA, GLS, and BRT to generate transport documents. For all other carriers, we have collaborations with external companies such as Qapla' or ShippyPro. So, directly from the Maxpho panel, you can easily generate transport documents for all carriers.
Q. How can I translate product titles and descriptions into other languages?
All titles and descriptions can be automatically translated using Google Translate v.2. very simply, just click the "translate" button within the product sheet and the texts will be automatically translated into all languages.
Q. Can I update product discounts in bulk?
Can I update product discounts in bulk?Product discounts can be updated in bulk 1,000 at a time. Once the advanced search is used, you can apply bulk changes to product discounts using the functions increase/decrease price in percentage, increase/decrease fixed price, or price equal to the specified value.
Q. How can I upload or modify product photos in bulk on my website?
Product photos can be uploaded in bulk in two ways: one method is to use CSV files uploading it in Maxpho administration, and the other is to use Maxpho's native "bulk changes" function.